Human Rights Park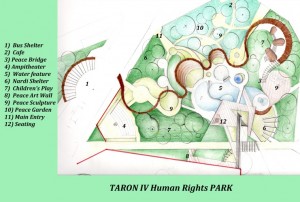 "Empower citizens with knowledge so they can work towards making a positive difference in their community life!"
Human Rights Organization NGO, Helsinki Citizens' Assembly – Vanadzor, Citizens of Taron IV, Jane Britt Greenwood, AIA Fulbright Scholar, Yerevan State University of Architecture and Construction, and Kathleen Lestina, US Peace Corps Volunteer in Community Business Development are working as a collective team to have a Human Rights Park built in the disadvantaged community of Taron IV.    The touchstone of the project is that it is a collaborative effort between members of our team, public agencies, and entrepreneurial businesses, our national and international friends and supporters.
Early in 2011, a community needs assessment revealed that Taron IV, a poor community in Vanadzor, did not have an outdoor space to meet together as a community, parents did not have a safe place to walk with their children and teach them about the natural environment, youth needed a place for healthy activities and the elders needed a place to play nardi or chess, or a place to have lively discussions.  The conversation naturally led to the fact that it is all too common in Armenia for rich individuals to buy and own "public land" and therefore the community not only loses municipal land but they also have no say on what is developed in their neighborhood.   Not having their "collective civic voices heard" on the way the communities' open space is developed is a grievous social injustice.  Before this land is "sold" to a private individual, Taron IV has initiated a grass roots effort on how they would like their common open space designed and developed.
Our team understands that partners are critical to the success and image of a public improvement plan so we ask if you would be willing to partner with us.   We feel this collaborative park project will actively engage citizens and youth in a process that will help them better understand and appreciate the value of a healthy and sustainable environment as well as empower them in civic life and engage them volunteerism.
You can read more about the Human Rights Park here: Human Rights Park.pdf
To support the establishment of the Human Rights Park in Vanadzor you can send your donations to the following bank accounts:
USD
 
Intermeduary Bank:
DEUTSHE  BANK  TRUST  COMPANY  AMERICAS
New-York, USA
Swift: BKTRUS33
ABA:021001033
Beneficiary Bank:
CJSC " AREXSIMBANK-GAZPROMBANK  GROUP"
Yerevan, Armenia
Swift: RKASAM22
Beneficiary name:
"HCA  VANADZOR  OFICE"   HGO 
Beneficiary ACC:
23800 203 072 00 101 
AMD
Beneficiary Bank:
CJSC  AREXSIMBANK-GAZPROMBANK  GROUP
Yerevan, Armenia
Swift: RKASAM22
Beneficiary name:
"HCA  VANADZOR  OFICE"   HGO 
Beneficiary ACC:
23800 203 072 00 100
EUR
Intermeduary Bank:
Deutsche Bank AG, Frankfurt am Main, Germany 
SWIFT: DEUTDEFF
DE42500700100947722500
Beneficiary Bank:
CJSC AREXSIMBANK-GAZPROMBANK  GROUP Yerevan, Armenia
Swift: RKASAM22
Beneficiary name:
"HCA  VANADZOR  OFICE"   HGO
Beneficiary ACC:
23800 203072 00149

382 views