Right to civil disobedience
11:24, November 4, 2014 |
News
,
Own news
|
Freedom of Assembly and Association
,
Freedom of Movement
,
Freedom of thought, conscience and religion
,
Right to Fair Trial
,
Right to liberty and security
,
Right to Respect for Private and Family Life
|
Civil Control
,
Shant Harutyunyan
,
Support for civil iniciatives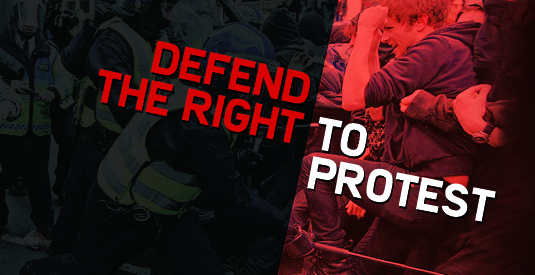 The right to civil disobedience, freedom of assembly and association, freedom of movement, freedom of speech, conscience, thought and freedom of religion make part of the incomplete list of the rights retained by each individual, person and citizen, regardless of their place of residence, nationality, ethnic origin, gender and sexual orientation, education, social status and the nature of the dominant regime in the country. A person is entitled to make independent decisions, express his/her opinions freely, defend his/her right to freedom and if necessary, oppose illegality.
Every day, the world witnesses civil disobedience campaigns; people go out to the streets to struggle for the protection of their rights and restoration of their violated rights, as well as to voice their protest on issues of public concern and stand up for the rights of each other.
A series of various actions of civil protest and disobedience occur in the Republic of Armenia, as well.
The past two years have been marked with a number of completed and ongoing civil disobedience movements, namely: 'Let's Pay 100 Drams', 'I'm Against It', 'Against the Law on Taxation of Private Entrepreneurs', 'Mashtots Park', 'Army in Reality', 'Afrikyans' House', etc. Many citizens who have suffered violation of their rights still continue to fight in the movements below: 'Clothed-in-Black Mothers', 'Get out of Our Pockets!', movement against the new law on benefits for pregnant women, actions in support of rights of women suffering violence, movement against the adherence of the RA to the Eurasian Economic Union and last but not least, 'Revolution of Values' by Shant Harutyunyan and Friends.
On October 31, 2013, Shant Harutyunyan started a sit-in in the Freedom Square in Yerevan and on November 5, initiated a March of Masks for Guy Fawkes international day. On that day, Shant Harutyunyan intended to carry out a revolution in the Republic of Armenia and called his movement a 'Revolution of Values'. However, the march was disrupted after a few minutes due to the clashes; consequently, the police apprehended Shant Harutyunyan and his supporters, 40 persons in total. Later, some of the persons apprehended were released and involved in the case as witnesses, and charges were brought against the fourteen arrestees, namely Shant Harutyunyan, Avetis Avetisyan, Liparit Petrosyan, Armen Hovhannisyan, Vardan Vardanyan, Misak Arakelyan, Albert Margaryan, Anushavan Grigoryan, Mkrtich Hovhannisyan, Vahe Mkrtchyan, Hayk Harutyunyan, Tigran Petrosyan, Alek Poghosyan and Sevak Mnatsakanyan, and detention was selected as a measure of restraint. Shant and his friends are still under detention; throughout their detention period, they have suffered ongoing psychological pressure.
On October 17, 2014, the General Jurisdiction Court of Kentron and Nork Marash administrative districts of Yerevan, RA announced the judgment which once again came to prove that Shant Harutyunyan and his friends suffered political persecution and were actually POLITICAL PRISONERS. Even Shant Harutyunyan's 15-year-old son, Shahen Harutyunyan, faced political persecution, and the court found him guilty by sentencing to imprisonment of 4 years.
The right to civil disobedience is the cornerstone of the civil society, contributing to the creation of a state governed by the rule of law and establishment of participatory processes.
Highlighting the aforementioned, the HCA Vanadzor is pleased to invite all the persons concerned about this case to a discussion on the Right to Civil Disobedience in Dvin Hall, Ani Plaza Hotel, at 12 pm, November 5, 2014.
76 views