Working discussion with journalists and representatives of numerous state organizations focused on features of covering problems of persons with mental health problems and drug users
11:31, February 14, 2017 |
News
,
Own news
|
Prohibition of Discrimination
,
Rights of Patients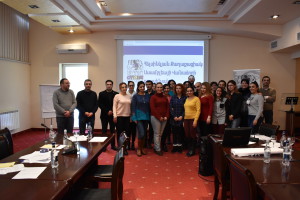 On February 11-12, 2017, Helsinki Citizens' Assembly-Vanadzor, in cooperation with the Center for Media Initiatives and with the financial support of Sigrid Rausing Trust Foundation, held a working discussion with journalists and representatives of numerous state organizations on the topic of 'Features of covering problems of drug users and persons with mental health problems'.
The working discussion focused on relevant studies carried out by HCA Vanadzor on coverage of the said topics and the issues identified through such studies.
At the start of the discussion, Marietta Temuryan, Monitoring Specialist at HCA Vanadzor, presented the findings of the monitoring, as well as the statistics of the coverage by topics, their features and problematic aspects.
Along with other issues, attention was drawn to the large number of the publications shaping negative attitudes towards people with mental health problems as well as the frequent use of stereotypical words in the publications on such persons and drug users and publications disclosing personal data. Then she touched upon the publications shaping positive attitudes on illicit drug trafficking and use of drugs. The participants actively discussed the topic.
Arayik Zalyan, Legal Department Coordinator at HCA Vanadzor, and Susanna Davtyan, Legal Analyses and Initiatives Coordinator at the Organization, touched upon the forms of discrimination and restriction on freedom of speech and responsibility. The participants raised issues on the forms of discrimination, their reflection in the legislation and procedures for adoption of legal acts.
Armen Sargsyan, representative of the Media Initiatives Center, provided individual examples to show the role of the media in covering the problems of vulnerable groups and the stereotypes; group work identified the problems faced when covering this field and the ways to overcome them.
The 2nd day of the working discussion was also eventful.
Suren Nazinyan, narcologist at the RA MoH National Institute of Health, and psychiatrist Khachatur Avetisyan touched upon preparation for coverage of topics that are hard to cover, features of communicating with their characters and the right aspect of presenting thematic materials.
The experts also touched upon individual cases and provided preliminary knowledge of the fields they presented.
The 2-day working discussion was wrapped up by presenting the ethical issues in the journalistic publications on vulnerable groups and innovative technologies for their coverage.
As a result of the working discussion, the participants will prepare and publish thematic journalistic materials.
Related publications:
'Challenges in mental health sector in terms of ensuring health rights of persons with mental health problems'
'Reference on Monitoring Publications on Drug Users and Illicit Drug Trafficking and Other Drug-Related Issues on Official Websites of Public Authorities and Other Mass Media in May-December 2015'
Peculiarities of the policy applied in relation to drug users in Armenia. Identification of primary gaps and need for amendments
53 views